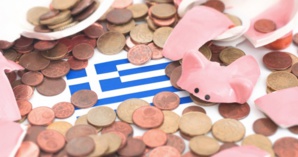 shutterstock
- We recommend that those, who are planning a trip to Greece, should be careful, - said David Swann, the representative of Travelex, which specializes in currency exchange, and operates the exchange offices and cashpoints worldwide.

Analysts at Barclays believe that this week, Greece may limit the amount of money you can withdraw from bank accounts.

As reported, the volume of deposit withdrawals from the four leading banks in Greece on Thursday exceeded 1 billion euros reached € 3 billion since the beginning of last week, which is three times more than the average weekly indicators for the last two months. In June, the outflow of deposits from Greek banks exceeded 4 billion euros.

Tourists coming to Greece stopped trusting banks and cards, and in recent weeks are increasingly turning to hotels to provide secure safes for substantial reserves of cash, notes Bloomberg.

- Customers want to feel safe, not to be left without means if something happens. They bring more cash with them, - said Costas Dimitrokalis, who heads a network of KD Hotels of the six resorts on the island of Santorini.

In the first quarter the number of foreign tourists visiting Greece jumped by 46% compared to the same period in 2014 - to 1.73 million people, according to the latest data of the Greek Central Bank.

Association of Greek Tour Enterprises (SETE) in May warned that observed at the beginning of the year strong growth in bookings fizzles. This week its representatives refused to discuss the potential consequences of the failure of negotiations with creditors of Athens, since "the situation is too unstable."

Leading travel agencies, including Thomas Cook, still have is a strong demand for tickets to Greece. TUI AG, Europe's largest tour operator, said it is rarely asked on how a possible Greek exit from the euro zone will affect tourists' holidays.

The share of the tourism sector accounts for 17% of Greece's GDP, so painful downturn would affect the country's economy, which already is not in great shape.

Recall that on June 18 investors have withdrawn from the four leading banks in Greece more than 1 billion euros, and since the beginning of the week - € 3 billion, which is three times more than the average weekly indicators for the last two months, writes the Financial Times.

Outflows accelerated in anticipation of the extraordinary summit of Heads of State and Government of the eurozone, which convened on last Monday.